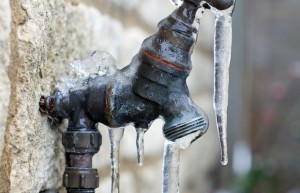 Generally speaking, the winters here in Georgia remain somewhat mild in relation to other areas within the U.S.; however—as evidenced by the icy weather last January—even in the South, deep freezes do happen.
Sadly, not all houses are built the same, particularly those situated in warmer climates.  Here in Georgia, since freezing temperatures tend to be the exception rather than the rule, most homes are built with water pipes which are located in unprotected, uninsulated parts of the structure; however, aside from general construction differences, variation can even be found within the homeowners themselves, since people generally accustomed to warmer weather tend to be less aware of freezing problems.
Therefore, since frozen pipes can often be an extremely messy and expensive problem, it's important to understand why it happens and how to make sure it doesn't happen in your home.
WHY DO PIPES FREEZE?
For anyone who has ever put a can of soda in the freezer to watch what the expanding, frozen liquid does to the actual can, it's helpful to think of the pipes in your home the same way.  Water expands as it freezes, which puts extreme pressure on whatever medium is holding it in—to include both metal and plastic piping.
Thus, the pipes that pose the greatest risk for homeowners are, as previously mentioned, ones that are exposed to severe cold without protection—i.e. outdoor hose bibs, swimming pool supply lines, water sprinkler lines, and unheated interior lines in areas such as basements, crawl spaces, attics, and garages, as well as pipes that run along exterior walls with little or no insulation.
HOW TO PREVENT FROZEN PIPES IN ADVANCE
Before the really cold weather sets in, consider following these recommendations:
1. Drain all water from swimming pool and water sprinkler lines following the manufacturer's directions.  Also, avoid the use of antifreeze in these lines unless directed by a professional, since antifreeze is not only environmentally harmful, but particularly dangerous to humans, pets, wildlife, and landscaping.
2. Remove and drain all hoses that are used outside, and close the inside valves supplying your outdoor house bibs.  Open the outside house bib so the water can drain and allow it to remain open so any water remaining in the pipe can expand without causing it to break.
3. Take note of other sections in your home where water pipes may be located in unheated areas.  Whether the piping is for hot or cold water, insulate them for protection.
4. Consider using specific products for pipe insulation such as pipe sleeves or heat tape.  If you're not looking to spend a lot of money, even newspaper wrappings can provide some degree of protection in exposed areas.
STEPS TO TAKE DURING COLD WEATHER
1. If your water supply lines are in the garage, keep the garage door closed to protect your pipes from the elements.
2. When the temperatures take a drastic dip (particularly 20° F or lower), let the faucet drip with cold water.  Running water, even if it's only a trickle, can help stop the pipes from freezing.
3. If you plan on traveling or being away from your home for an extended period of time, make a point to leave the heat on (set to no lower than 55° F).
TO THAW ALREADY FROZEN PIPES
If you attempt to turn on the faucet and only a trickle comes out—or nothing at all—it's safe to say that the pipe is probably frozen.  To remedy the situation, consider the following:
1. Keep the faucet open as you begin treating the pipe.  Once things begin to thaw, continued running water will help the ice melt faster.
2. Apply heat directly to the pipe through the use of an electronic heating pad, hair dryer, or portable space heater.  Towels soaked in hot water can also be used to wrap around the pipes; however, avoid using any methods that involve an open flame.
3. Check all additional water sources in the home to see if there are other frozen pipes.  If there appears to be a frozen area that you either cannot access or cannot thaw, call a licensed plumber for assistance.
PROTECTION FOR THE FUTURE
Sure, deep freezes are rare here in Georgia, but that doesn't mean they don't occur.  Plain and simple, it only takes one really cold day for a burst pipe to create a horribly expensive mess, so it's wise to consider not only adding insulation to attics, basements, and crawl spaces, but to maintain higher temperatures in these areas.  Furthermore, if you're planning a remodel, speak with the contractor about the possibility of relocating certain exposed pipes.
Protecting your home is important, especially if you're attempting to sell it and it's sitting vacant.  Don't let that possible sale turn into a nightmare of water damage and foundation work.
If you have any questions or would like the referral of an experienced, reputable plumber, please feel free to contact me.
Marie Dinsmore | The Dinsmore Team | www.dinsmoreteam.com | 770-712-7789