Along with being given the 2014 Five Star Professional Real Estate Award, being named to Trulia's 2014 "Best of" list, and earning the 2014 RE/MAX Platinum Club Award, I am proud to announce that I have rounded out a fantastic year by being named the 2014 RE/MAX All Properties Sales Associate of the Year.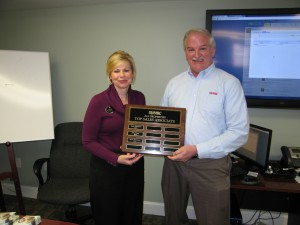 With over $11 million in sales for 2014, this is the second time I've been given this amazing honor and I am so thankful to everyone who helped me along the way.  My success is not an individual feat—it is something that is a direct result of the support I have gained from my customers, network family, and friends, and I am unbelievably grateful for all of their blessings.
At the end of the day, real estate is my profession and I am proud of where it has taken me but more than that, I am so thankful for the opportunity it has given me to interact with the community in a way that gives back and builds relationships which go far beyond simply buying and selling.
Thank for this latest honor.  It is truly one of the highlights of my life and career.
Marie Dinsmore | The Dinsmore Team | www.dinsmoreteam.com | 770-712-7789