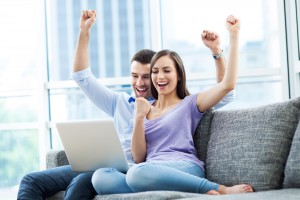 There's nothing like the feeling you get when, after touring what seems like—or might actually be—dozens and dozens of houses, you finally find the one.  The minute you enter, you can see your life playing out within its walls and try as you might, you cannot squelch the array of possible paint colors floating through your head.  It has to be yours.  You're certain it will be…
…until you discover that nine other bidders are waiting in line.
How did that happen?  You're angry and anxious, especially since you know that you're attempting to buy in a seller's market.  After the housing collapse several years ago, it might seem strange to see buyers without the upper hand; however, with less inventory currently on the market, it's not unusual for sellers to receive upwards of 15-20 offers on a home.
Therefore, if you find yourself in this type of situation, whether you think you stand a chance or not, it's always a good idea to write an offer anyway.  To help you along, here are a few tips to put you in the best possible position:
DON'T UNDERESTIMATE EXPERIENCE.  You wouldn't go to court with an inexperienced, novice attorney, so why would you bet your financial livelihood on an inexperienced real estate agent?  When it comes to navigating a multiple-offer situation, hiring the services of a seasoned Realtor—who is not only familiar with the process, but has a track record of successful closings—is one of the most important steps you can take.
GET PREAPPROVAL.  Generally speaking, each offer will undoubtedly be accompanied by a prequalification letter from a lender; however, you can appear to be the strongest buyer by entering negotiations with a loan preapproval letter.
PUT YOUR BEST OFFER FORWARD.  Instead of expecting negotiation, write your best offer and make it attractive.  In an effort to determine pricing, a solid Realtor will be able to give you a comparative market analysis, which is important since many sellers intentionally set low prices in an effort to generate multiple offers.  Just because you're paying above their asking price, doesn't necessarily mean you're paying more than the market value.
UNCOVER WHAT'S IMPORTANT.  All sellers have certain wants that will help you land in their good graces.  Whether it's a fast closing or a longer than normal escrow period, ask your Realtor to find out what those hot buttons are and work hard to make them a reality.
DON'T GET HUNG UP ON CONTINGENCIES.  While it's essential to get a home inspection before you close on a property, there's nothing wrong with tightening the time period a bit.  When it comes to contingencies you have the power to speed things along, so if your loan is solid, don't be afraid to waive the loan approval contingency.
MAKE IT PERSONAL.  In some instances, it may even be helpful accompany your offer with a handwritten letter that will explain to the seller why their home is perfect for you and your family.  Making things personal will not only help you stand out, but it will take you from being just another offer to being a real person.
In the end, multiple offer situations can be challenging, especially if you've found yourself on the losing end of a similar circumstance in the past.  To make yourself the best possible candidate, straighten your affairs and hire a practiced Realtor who can walk you through the process.
To learn more or to see how I can help you, please feel free to contact me.  I'm a proven Realtor who is great in multiple offer situations—and I'd love to hear from you!
Marie Dinsmore | The Dinsmore Team | www.DinsmoreTeam.com | 770-712-7789